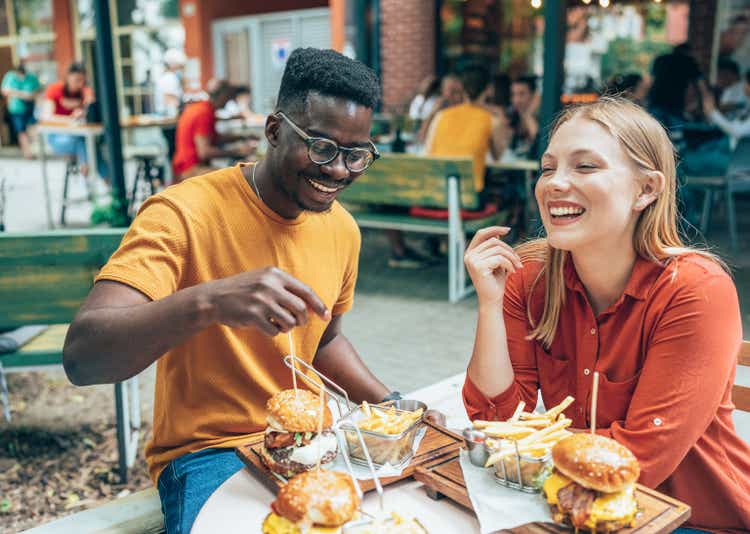 After reviewing several restaurant companies recently, today I take a look at the leading supplier to the US restaurant industry, Sysco (NYSE: SYY). As I say below, Sysco is a great company that will likely get even stronger in the future.
Although Sysco shares are trading around my estimate of fair value, it is a business I would like to own at the right price (I usually look to buy at over 30% off my estimate fair value). With a looming recession and worries about consumer spending, Mr. Market might give me a shot at owning this business in 2023.
Competitive advantages
Sysco is the market leader in food distribution to restaurants with an estimated 17% market share, followed by US Foods (USFD) at 8% and Performance Food (PFGC) with 7% market share. Beyond these three leaders, the industry is very fragmented. Sysco has steadily gained market share over the past two decades, both organically and through acquisitions.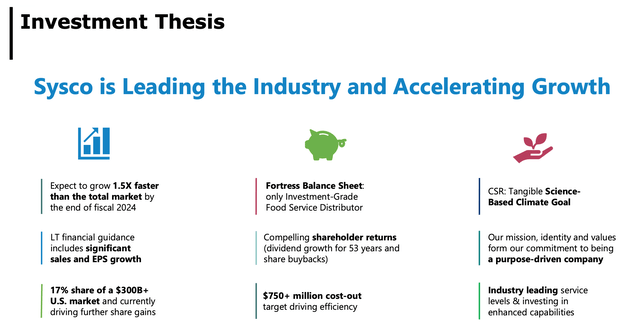 Sysco's tremendous relative scale is a source of significant competitive advantage, including:
Increased Purchasing Power – Sysco purchases nearly $60 billion worth of food-related supplies annually.
Operational efficiency or ability to leverage logistics and overhead costs. Sysco's high market share provides it with high route density, enabling it to serve customers at a lower cost per delivery. Similarly, Sysco has implemented state-of-the-art digital ordering and operating capabilities (again, reducing the cost to serve customers). Some of these lower operating costs are passed on in the form of lower prices (allowing Sysco to gain market share) and some are retained in the form of higher operating profit. This creates a virtuous circle where growth leads to higher profitability (some of which can be reinvested) stimulating further market share gains and growth.
Reach – Sysco has a broad product line and geographic footprint. A national platform enables Sysco to meet the needs of restaurant chains looking for a reliable source of consistent supply.
Food distribution is a "many-to-many" distribution model. Sysco is not overly dependent on a single food supplier and no single customer accounts for a significant percentage of sales. This limits the threat of disintermediation. Overall, I see Sysco as well above average.
Sysco's strong financial position has also proven to be a source of competitive advantage, as smaller local and regional competitors were forced out during the pandemic when restaurant sales plummeted. As a result, Sysco gained approximately 200 basis points of market share during this period. The company appears poised to continue gaining market share as it is better able to weather cost inflation than its smaller rivals.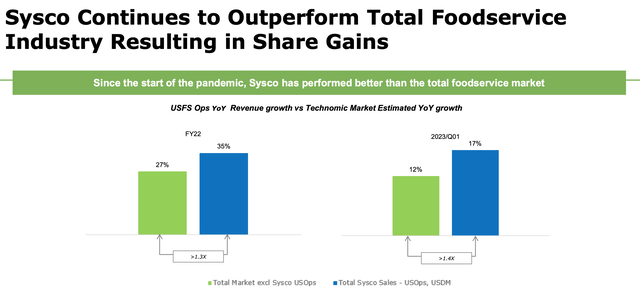 Current results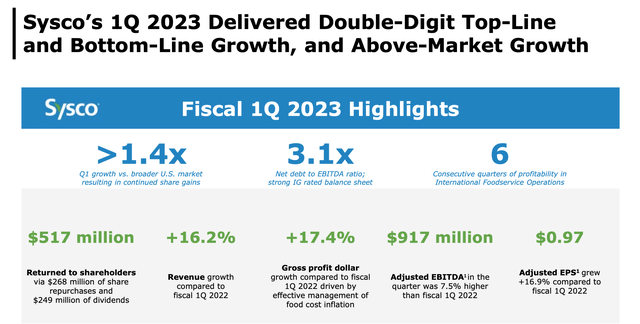 As noted above, current results are strong. While Sysco is seeing a slight contraction in EBITDA margins due to inflation, the company is doing quite well in passing on raw material, fuel and labor costs to its customers. Additionally, Sysco continues to outpace the industry (gaining market share). It all comes down to Sysco's strong competitive position – as an industry leader, it is best positioned to weather a challenging environment given its many competitive advantages (detailed above).
Sysco's strength stands in stark contrast to some of the restaurateurs like Shake Shack (SHAK), Portillo's (PTLO), and Carrols Restaurant (TAST) that I've written about recently. Restaurants operate in a much more competitive environment (lower market share) and struggle to pass on price increases commensurate with rising labor and commodity costs.
Evaluation
Today, Sysco shares are trading at 19x forward earnings and 13.5x EV/EBITDA. Although these multiples are at the upper end of Sysco's historical trading range (16-20x P/E), I consider the company to be slightly undervalued today as the company has strengthened and has been gaining market share over the past few years (and will likely continue to do so).
Given its many competitive advantages, its strong/growing position in the market and its fantastic (30%) returns on operating capital employed, I think a P/E of 19-22x is justified for Sysco. This produces a fair value of between $79 and $92 per share, suggesting the company is between reasonable value and 14% undervaluation.
Conclusion
If you've read this far, you've probably assumed that I really like Sysco's business. However, as a value investor, I typically buy stocks only when I'm trading them at a 30% (or more) discount to my fair value estimate of $85/share. As such, I will be looking to buy a position in Sysco if its shares are trading below $60. With a looming recession and worries about consumer spending, it looks like I might be lucky enough to own this business in 2023.