Jeff Osuji knew his latest business venture had legs at the 2019 Black Alumni Ball in Washington, D.C. His platform, Eventnoire, served as the registration site for this annual event, which connects and celebrates Black professionals and influencers.
"It was a stress test for us," Osuji said of the 1,500-person event. It was the largest event to date to use its ticketing platform, which focuses on black-centric events and culture.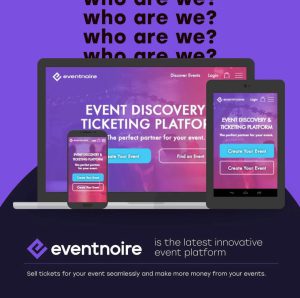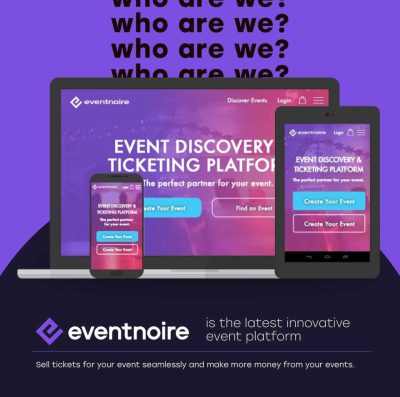 "What surprised me was that not only did people sign up and it worked out well, but people got to know the brand," the Chicago native said. " Often [the Black community] doesn't feel seen or heard, so when there's a brand or product that puts us first and allows us to be seen, there's a real fit, loyalty and feeling of affection.
Not only did attendees embrace the platform, but event organizers were also impressed. This stemmed in part from the platform's business model. The company offers revenue sharing on processing fees with event organizers, unlike traditional ticketing platforms which keep this revenue for themselves. This business model was important to Osuji and co-founder Femi Masha for two reasons:
"The black community has made major contributions to culture and we often receive the least return on our investments," Osuji explained. "It was really important for us to create something that allows us to share in the investments that we make, and also to give event curators – who create culture every day – a bigger slice of the pie."
The road to success
Eventnoire marks the second successful venture for Osuji and Masha. In 2008, the couple founded an event organization company, Events by Pyramid, when they were both majoring in chemistry at the University of Illinois at Urbana-Champaign. They came up with the idea for the ticketing platform while thinking about ways to grow the business, but didn't have the funds to grow it at the time.
Fast forward a dozen years and both have successful careers, Osuji in advertising and Masha in law, while running their event business on the side. The difference? They now had enough income to invest in their tech business.
Osuji quit his job in 2019 to focus full-time on Eventnoire. The founders hired a website development company and launched the first iteration the same year. When the pandemic hit in 2020, both companies felt the impact. Osuji was able to navigate through turbulent times by hosting online events and becoming a real estate agent to support himself and businesses.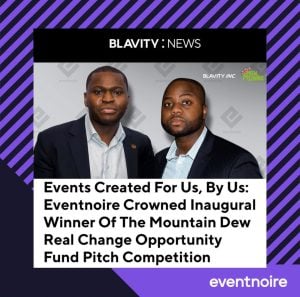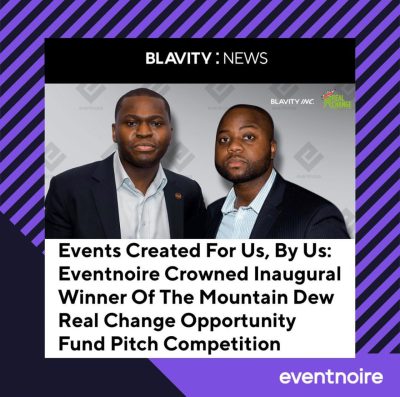 Osuji and Eventnoire received a boost in 2021 when the ticketing platform won Mountain Dew's Real Change Opportunity Fund competition and a share of the $1 million prize. It was the first of several technology funds to recognize the value of the company, which also received funding from Google for Startup and TechRise's Black Founders Fund.
These investments, support and recognition are of particular importance to Osuji, as tech funders have historically ignored Black-owned tech companies.
"These grants are helpful not only financially, but also in giving recognition and exposure. These are things that black businesses needed to thrive: capital and exposure," he said. "It also means that the world sees how unfair things have been for years. Hopefully this will lead to a change of business leaders and businesses to provide economic support to our community.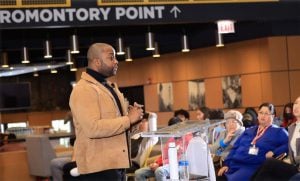 Osuji has also benefited from the support of the local small business community. He discovered the resources of the Polsky Center for Entrepreneurship and Innovation and the 1871 innovation hub at an AfroTech dinner in Chicago.
"I had no idea these resources existed, and I was surprised at how much of a community we support in Chicago," Osuji said. "Joining these organizations was one of the best decisions I've made."
The Polsky Center, he said, provided him with guidance on the fundamentals of his business and identifying opportunities for growth.
"[The] Polsky [Center] really changed the game for our business," said the entrepreneur. "When you're a small business, you don't have a big team to brainstorm ideas and [The] Polsky [Center] gave me this team and access to different perspectives and research on business opportunities.
A global future
Over the coming year, Osuji plans to launch a crowdfunding campaign, aiming to complete the pre-seed round by February.
These funds will help support Eventnoire in its internationalization. Osuji, who has been named one of WVON/Ariel Investment's 40 under 40 Game Changers 2022, aims to expand business in Africa and London next year, with the overall aim of serving the entire diaspora. African. They also plan to launch an app in Q1 2023 for their mobile consumers.
The company, which has been featured in local and national media including WTTW, Essence, Forbesand ChicagoInnocurrently has a team of five and is looking to add another sales position early next year.
Reflecting on the success of his business, Osuji said he learned a key lesson from his entrepreneurial efforts:
"There's room for smaller players, regardless of industry size, if you're able to make your customers feel seen," he said.
// Follow Eventnoire on Instagram at @eventnoirehq or Twitter at @eventnoire. Contact jeff@eventnoire.com for partnership requests.
---
Article by Devon McPhee, freelance writer and editor and owner of DM Editorial Services, LLC. Devon has over 20 years of experience in business, science and technology, health and medicine, and higher education.