The work of a blacksmith was crucial in the daily life of small farming communities. Blacksmiths made tools, horseshoes and plowshares. They were called upon to repair horse-drawn wagons and they made railroad spikes and railroad tools.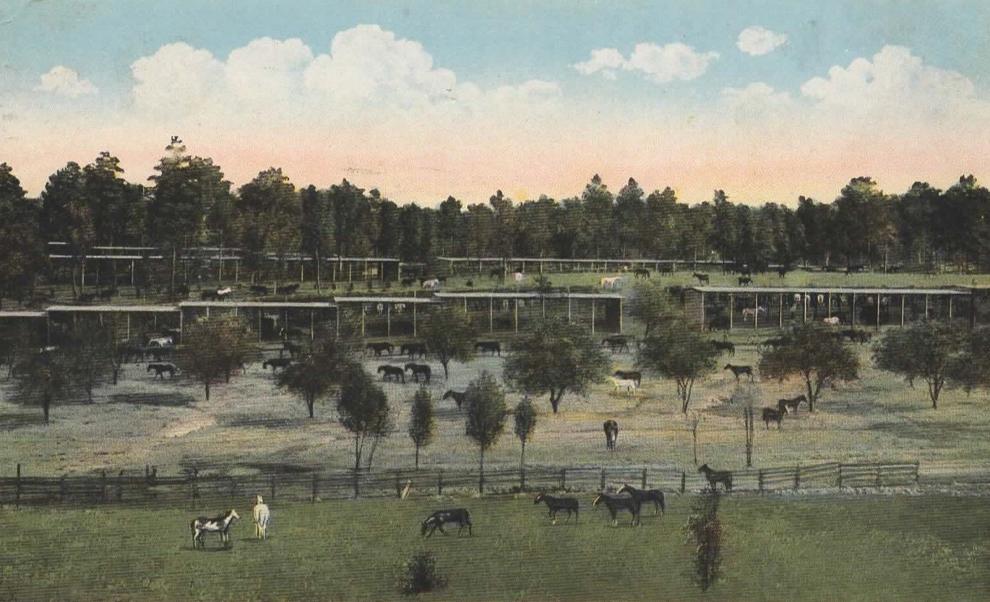 According to Vivian Price's 1983 book "Past Memories, Present Progress, Future Dreams, a History of the Community and City of Chamblee", there was a blacksmith shop in the early 1900s near the Chamblee Railroad Depot . Robert Hardin is listed in the 1910 census with a blacksmith shop on Peachtree Road in Cross Keys.
James Cephas Spruill's blacksmith shop was near Dunwoody Depot, located between CVS and Chevron on Chamblee Dunwoody Road. His store was in the triangle formed by present-day Nandina Lane, Chamblee Dunwoody Road and Mount Vernon Road. Census records from 1920 and 1930 indicate that Spruill continued to work as a blacksmith for many years.
His son, Sentell Spruill, was also a blacksmith. His store was behind the farmhouse where he and Emma Spruill lived on the property where Dunwoody Baptist Church stands today.
John W. Ball worked as a blacksmith at his home on Roswell Road, where Big Trees stands today. He and his wife Margaret Adams Ball built a log cabin, two wells, a barn and a blacksmith shop on their property. John Ball made wagon wheels, plows and iron mules in his blacksmith shop. The property was along a wagon road that led to Roswell.
Two other blacksmiths are listed in the 1910 census at Dunwoody, both near the depot and the railway tracks. Zebulon Reeve also had a blacksmith shop in the area where Chamblee Dunwoody Road branches off at Roberts Drive. He is listed in the 1910 census with his wife Sarah Reeve and six children.
William Allgood was a horse shoer and blacksmith, listed in 1910 with his wife Mary and eight children. Their street name is identified as Sandy Spring Road, an early name for Mount Vernon Road as it leads to Sandy Springs.
William J. Donaldson, who built Donaldson-Bannister Farm in 1870, was a blacksmith. The blacksmith's workshop was in the small buildings below the house and the caretaker's house.
The large estate known as Glenridge Hall (now demolished) at Glenridge Drive and Abernathy Drive included a blacksmith shop. An estate this large and with multiple horses needed a blacksmith shop on the property.
Another blacksmith shop at Chamblee was built in 1917 as part of World War I Camp Gordon. Ten horse paddocks, a blacksmith shop, vet quarters and a mess hall were all part of the lift station built at Camp Gordon. In 1920, Joel Logan, Singer Moon and Claude Lynch were still employed at the Camp Gordon forge.
Not all blacksmiths considered this their profession. Farmers, like Ambrey Carpenter on the corner of Tilly Mill Road and Mount Vernon Road, were also skilled blacksmiths but saw farming as their main occupation.
If you are interested in learning the skills of a blacksmith, classes are offered at the Spruill Center for the Arts in Dunwoody. Freefall classes have just started and are full, but more will be available in January according to instructor Mike Romeo.
Romeo took a class himself when his sons bought him a gift certificate for the Spruill Center for the Arts. He enjoyed the course, adding, "The original blacksmiths mainly made tools. I find it fascinating that if I need a tool to complete a project, I make it. The same really cannot be said for many other professions. Tradesmen used to go to a blacksmith for this necessary tool. Today you go to a big box store for a tool.
"Blacksmithing as a hobby is a way to break away from the fast-paced world of technology and create something useful or create art out of a piece of metal," Romeo suggests. . "I think the renewed interest in blacksmithing today is rooted in people wanting to go back to simpler times when you can be proud of what you've done and use physical labor to do it – without pressing a button."
.